About TRAJECTS
The Transnational Centre for Just Transitions in Energy, Climate and Sustainability- TRAJECTS is one of the four DAAD-funded Global Climate and Environment Centres. Its aim is to support and strengthen transcontinental exchange, research, and education on transitions towards a sustainable future.
TRAJECTS main objective is to focus on climate change mitigation in the following key sustainability just transition areas:
Fossil fuel phase-out and shift towards post-fossil energy system
Fundamental shifts in land use and management, as well as ecosystem protection
Given the complexity of these issues, TRAJECTS groups a large diversity of expertise and actors, offering local as well as transnational answers and perspectives towards just transitions necessary to protect our shared climate and environment and achieve a sustainable future.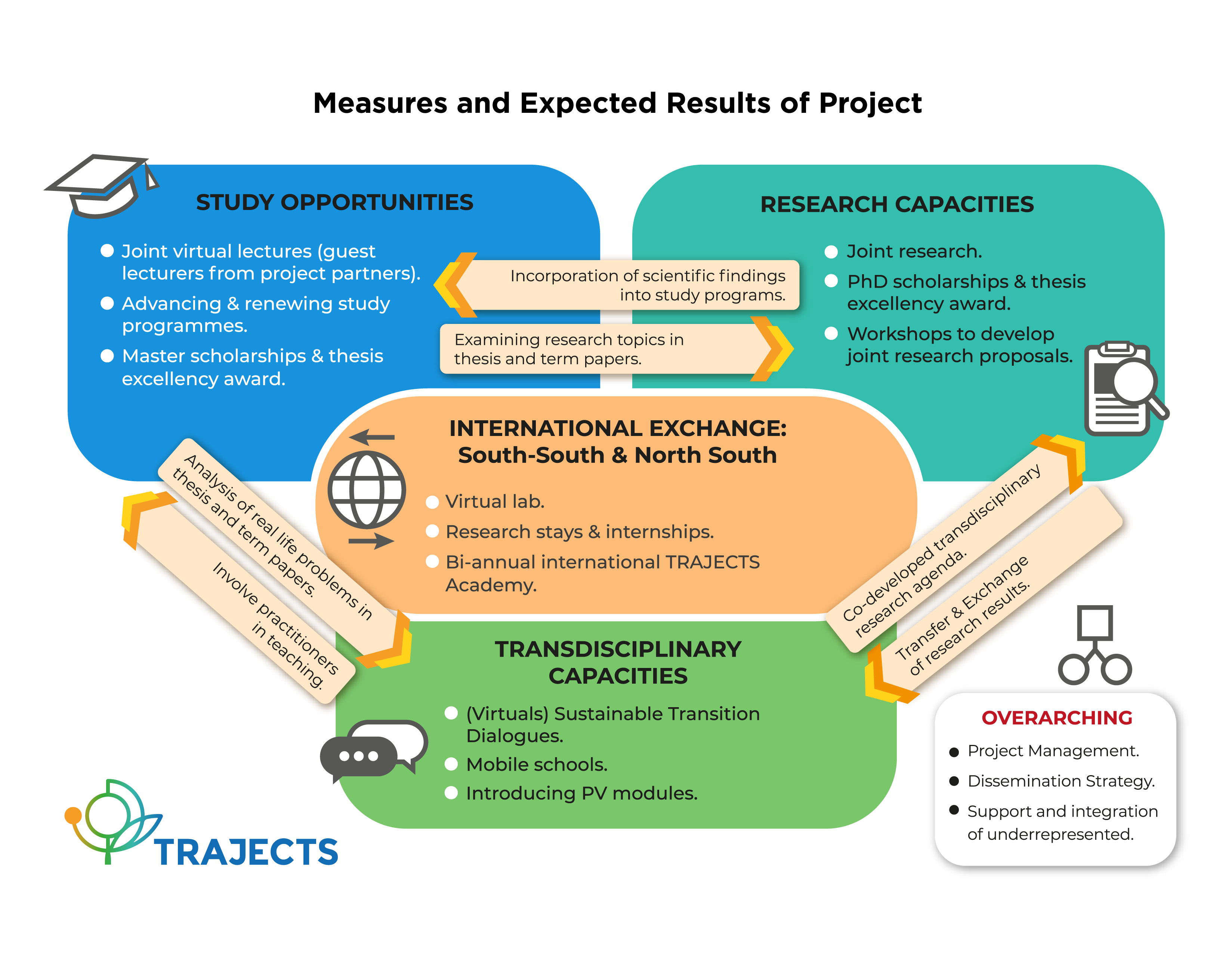 TRAJECTS objectives and research foci
Acknowledging the importance of an overarching approach to study and understand Transitions to Sustainability and the key role of dialogue between academia and practical approaches (e.g. policy/decision making and technical/social innovation) to progress this research agenda, the partners behind the TRAJECTS have been making numerous scientific and practical contributions to transitions to sustainability from multiple angles.
TRAJECTS focuses on climate change mitigation in the two focus areas of fossil-fuel phase-out and changes in land management and ecosystem protection, and will extract demand- and policy-oriented research and teaching on the two principal processes of socio-technical transitions (exnovation & innovation) TRAJECTS' partners coincide in their shared interest on the different dimensions of two key transitions that must occur to mitigate the most important sources of greenhouse gas (GHG) emissions, as well as of other environmental impacts, to enable a pathway towards a more sustainable future.